From cocooning with his fellow Brothers in Dublin, to working on the frontline in Belfast, a young trainee priest has put his dreams on hold to help out during the coronavirus crisis.
Belfast man Chris Gault previously left his career as a junior doctor behind to follow his true calling in life – the priesthood.
But when the UK government put out a call for retired medics to re-register, he volunteered his services, not expecting to be called up.
"I received an email and in discussion with my superiors I thought, is this the right thing to do, is this the Christian thing to do. I'm here, the power of prayer is not to be underestimated. And I'm still praying," Brother Chris said.
"They were very supportive and very encouraging. And they were in agreement," he added.
Now, Brother Chris is shadowing colleagues, learning how to put on Personal Protective Equipment properly, and is back on the wards in the Mater Hospital – the Belfast Trust's allocated Covid-19 hospital.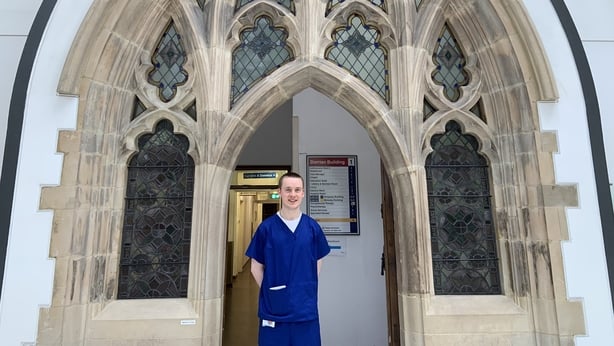 He is familiar with the hospital having worked there before, after he qualified from Queen's University Belfast, but this time it is very different, and he said he is even more impressed by his colleagues at the hospital than ever before.
He described it as a very new and a very real experience with everyone just trying their best.
"Their dedication is just unreal, they're actually an inspiration to me, the ability of these professionals to just adapt to these crisis situations and just get on with it"
"They're actually just so convicted that they're going to beat this virus and I have real hope that they will," he said.
While both religion and medicine can be seen as vocations, Brother Chris said the priesthood "is 100%" his true calling and he "can't wait to be a priest".
"I always had thoughts of giving my life to the lord in that way. Medicine's a vocational calling too but I just always had the sense that it was priesthood. I tried to run away for a few years but when I finally answered that, the peace that came from just the surrender of my will to his was just immense. And honestly, I just can't wait to be a priest. This is very temporary, the circumstances are extraordinary," he said.
Brother Chris' superior at St Saviour's is Fr John Walsh. He describes Brother Chris as a very affable and prayerful young man who has one of the best singing voices, which he is missing at the moment.
He said Brother Chris is very dutiful and religious, and will make a fine priest.
Fr Walsh said they have seen an outpouring of love throughout this pandemic across the world and they are sending Brother Chris out at this time with joy.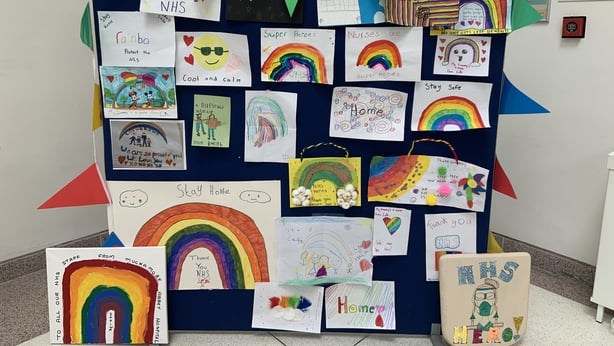 "There was a fear in sending this young man back out into his occupation, the fears of going out into the world because he has lived in many ways a sheltered life in the order protected from so much in the community here of 18 of us," said Fr Walsh.
He added: "Dominicans have always gone out alone, and were sent out from a life of prayer, study and contemplation into the world to minister. So that gave me comfort and yet the words of the lord, trust. Trust and do not be afraid.
"So it's with trust in the lord and it's with faith that we send our Brother out knowing that what he's doing is coming as a massive sacrifice to him and his life, and to us. But he is bringing a hand out from this religious community, out into the world using the talents that God has given him.
"So we send him out with joy because it is a form of preaching, what he is doing."
Brother Chris joined St Saviour's Dominican Priory around 18 months ago and has been studying Philosophy in Maynooth.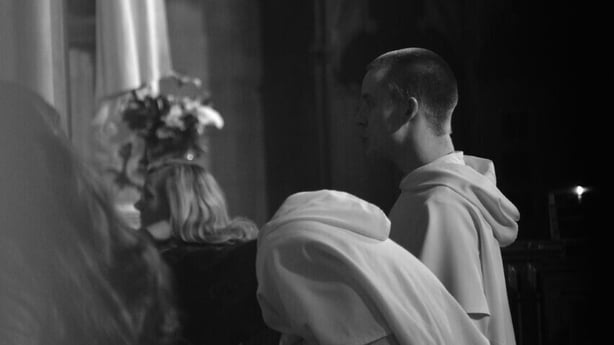 His exams have been deferred, possibly until August, which means until then he will be juggling hospital shifts with study while living alone in Belfast.
He misses eating and praying in the priory, and being away from the other Brothers.
The Dominican Order has 16 communities in Ireland and has the largest number of young religious priests and Brothers in the country.
Brother Chris is hopeful that he will be back at St Saviour's priory soon and is encouraging everyone to pray and remain hopeful that this crisis will pass.
"Don't lose hope. Coming back here, and in the short time that I've been here, I'm very confident that these professionals with all the support they're receiving from the public, they'll beat this thing.
"It might not be tomorrow or next week but they're going to beat it you know. So I would encourage people to pray, turn to the Lord and just have hope, and wait it out … and obviously follow the guidelines that are given because they're in everybody's interest," he said.
https://www.rte.ie/news/coronavirus/2020/0501/1135931-priest-doctor-cooronavirus/